2015 is the year that the Pharma Industry finally has to get really serious about digital …
21 Apr 2015, Posted by Uncategorized
in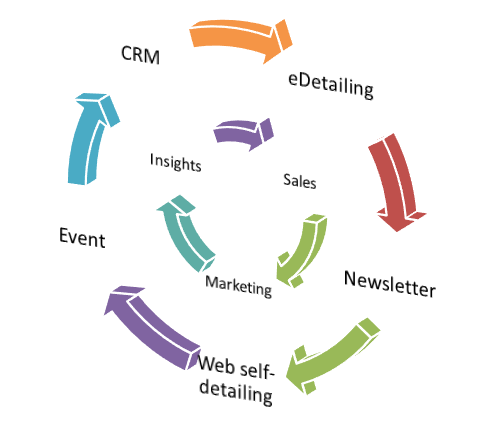 Integration of digital tactics within multi-channel marketing. Leveraging Closed Loop Marketing and Big Data advantages by more mature organizations.

For years digital marketing was treated as a fifth wheel in pharma business. Whatever we say, the truth is that those organizations are made of sales force. And digital marketing for sales force was just another marketing gimmick that does not add value but a workload and cost.
However, during past few years this traditional sales force thinking was challenged. Payers pressure forced companies to reduce ranks of sales representatives. Regulatory decisions have limited possibility of sales reps to meet HCPs. The result is that sales rep cannot meet his Client often enough to detail the product and maintain relationship in the same time.
Digital came to help with e-detailing and web-based self-detail solutions. CRM software Customer_relationship_management>  supports reps with data that allow reps to have a meaningful conversation with HCPs they barely know. Combining detailing during visits with digital tactics and good old direct marketing is our new buzz word: a Multi Channel Marketing (MCM).
This Multi Channel Marketing approach allows even better results with something Pharma marketers call Closed Loop Marketing (CLM). What does it mean? It is a feedback loop that feeds every next action with the information gathered in previous touch points.
For example: If doctor X has logged in to the website of the product or disease area and searched for particular information (be it safety data or Mode of Action), his activity is logged in the system. Sales who will prepare for the meeting will get his eDetailing story focused on the topics that were of interest of doctor X during his journey on the website. eDetailing application also logs data about activity of the doctor X. It will note which parts were opened longer, which multimedia were presented, what answers doctor X gave to the quizzes embedded in the story.
Those data combined may be used to shape the content of personalized newsletter send to the doctor X as the follow-up for the visit. When doctor X clicks on the link and goes to the self-detailing website his activities will feed any next action that company can offer (be it web conference or CME online course assignment proposal).
The concept is easy to describe, but very hard to achieve. Big Pharma usually has many different tools for each activity used by different business units at the same time. The data gathered across different channels are not only not standardized, but often they are not gathered at all.
Our prediction is that 2015 will be the year of integration of digital with other channels. Multi Channel Marketing campaigns, made better or worse will become a standard approach. Digital channels will become a core of those campaigns as they offer the most advanced and effortless data collection capabilities. When integration is done, more mature organization will start to play with Big Data, looking for the behavioral patterns, segmentation and optimized content.